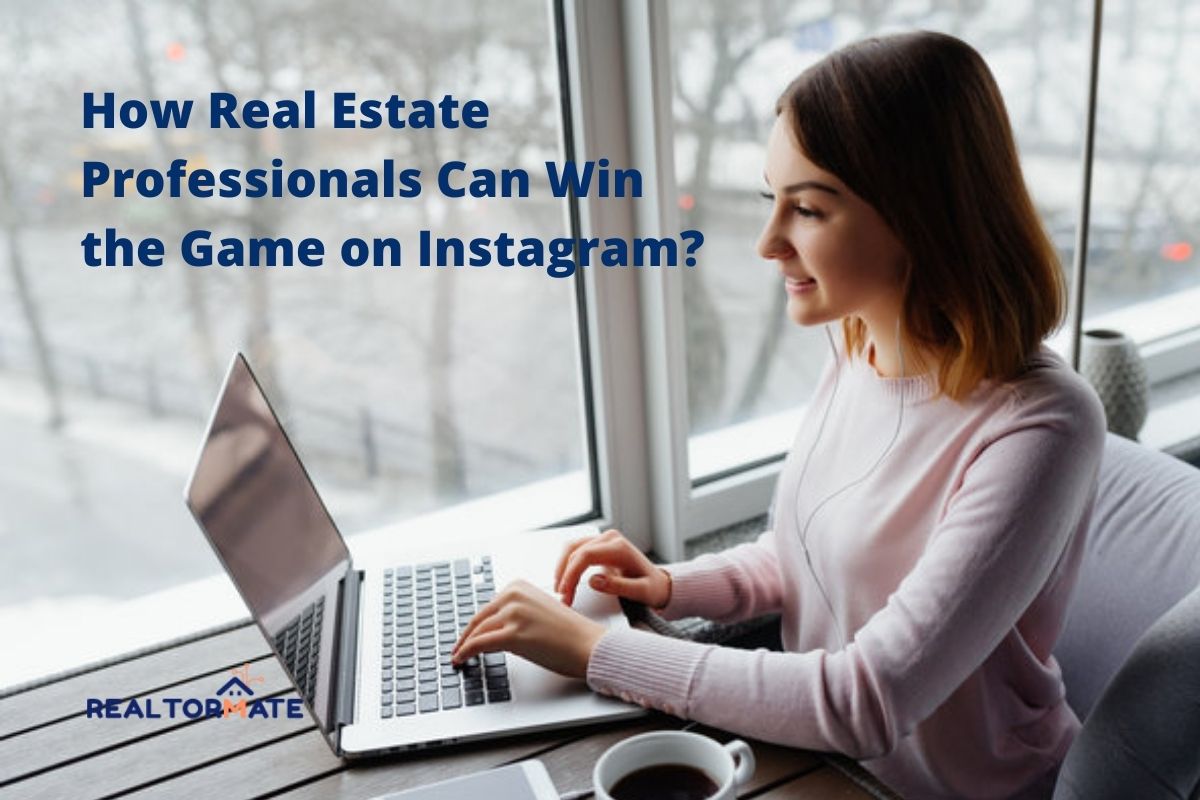 Are you a real estate agent who wants the most beneficial way to be successful? Do you want to know how to use Instagram for real estate? Are you looking for the strategy of successful real estate agents to generate more leads by social media? Here, you can find the answer to all these questions. Don't miss it.
Why Is Instagram Necessary for Real Estate Agents?
As a matter of fact, Instagram has become the most fashionable social media nowadays. Therefore, using Instagram for real estate agents should be your vital priority. Instagram for real estate agents can be a great tool to introduce themselves and their business.
Statistical information can approve that Instagram is estimated to have 1.074 billion users worldwide in 2021. Besides, experts had estimated it to hit this milestone in 2024, but it got it in 2021. Incidentally, Instagram also registered a big 22.9 percent increase in the number of users in 2020. Hence, you can see how fast the world is changing.
Additionally, after launching Instagram Stories, people started sharing much more on Instagram. 500 million Instagram accounts use Instagram Stories every day. Furthermore, 1/3 of the most viewed IG stories are from businesses. All this statistical information can prove that using Instagram for real estate agents should be the most important issue to consider.
Instagram is a great tool to use to get the most out of their social media strategy. Using Instagram well means something more than posting images regularly. You need to be able to get the proper care.
Remember that Instagram for real estate is not just to publish properties for sale or rent. You must add value to your followers.
It means you need eye-catching images to get people's attention. 
But as a real estate agent, that's not all you need to attract more Instagram followers. 
Let's reveal the secret!
Dos of Instagram for Real Estate
As you may know, Instagram has many features that we can use, but what features do we need to use? And how?
For having a perfect and up-to-date Instagram for real estate agents, you must use all useful features in the right way.
1- Use Instagram TV
If you want to know how to introduce yourself as a realtor, Instagram TV can open new doors for you.
This tool can let you record videos as long as you like. You can create a channel, shoot videos from your phone, upload them to Instagram, and appear at the top of your profile.
It can be used to have a virtual tour of properties. As some of your clients may not have enough time to visit a property physically, you can provide them with a virtual tour and let them enjoy it. 
Note that in the virtual tour, you should introduce yourself.
The other point is that you shouldn't talk too much about anything but the property. Start from outside and walk in. Clients will want to get the full experience like they would at an in-person viewing. As you are touring, point out any necessary detail. It can be your lovely personal points or extra options for the property.
Consider the point that, as you are filming, it should be as steady as possible to give your followers good sense.
The other usage of Instagram TV is introducing the neighbourhood. Take a walk and show your clients around. It would be a great option.
Another choice is filming a video as you are answering the questions of your clients or followers. It shows how expert you are and builds better trust.
2- Instagram Highlights are Beneficiary
Highlighting can be a useful option for real estate Instagram. It is recommended to have different Highlights. For example, 
One of the Instagram Highlights could introduce yourself

as a realtor

because people like to know who they are dealing with.

The other one can be about your outstanding achievements and some others

.
3- Hashtaging and Geotagging Can Get You Discovered
Tagging can increase your discoverability on Instagram. Right Instagram hashtags for realtors can help you be at the top. According to recent Instagram statistics, posts including at least one hashtag, score more engagement than those that feature none.
Never forget the power of hashtags for commercial real estate. They show you more delicately on social media. Additionally, commercial real estate hashtags can help you to generate real estate leads as well, and you can't deny their strength. 
The good news is that you can use a real estate Instagram tool to help you out. RealtorMate can bring the highest traffic to your account with the help of its Hashtag Generator Service. 
However, when it comes to the real estate business, geotagging can provide great opportunities. Users can search by places or current location to find realtors near them. When they tap a location, they can see your posts from this location.
4- Have a Business Account on Instagram for Real Estate
The Instagram account of real estate agents should be business type, so you can run ads, see your Instagram account's analytics, and boost posts. Try to boost your posts and use Instagram ads to increase your potential clients and generate leads. The other benefit of the business account is the availability of different features for analysis and statistics.
5- Use Instagram carousel feature
As you post on your Instagram real estate account, use the carousel option, and try to show as many high-quality and professionally-taken photos as possible for a single post. 
Take photos from different angles and exterior and interior views. Let the followers observe a single room as deep as possible. Using the Instagram carousel, clients can fully see the property and look at it many times with curious observation.
How can you be among the top real estate agents on Instagram?
Being one of the top real estate agents on Instagram is not an easy job to do. You need some help to have a top real estate Instagram account. 
Here, we will introduce you to one of these practical real estate software that can guide you properly in this competitive business.
RealtorMate as a dedicated Real Estate Instagram Manager
RealtorMate can provide you with the highest real estate Instagram growth. It can offer the most practical real estate marketing services, as well. In other words, it tells you how to use Instagram for the real estate business effectively and practically.
It is crystal clear that social media is playing an inevitable role in this new world. Therefore, you need to be active in this category. RealtorMate can provide you with everything you need to grow your real estate Instagram account.
You can see the most effective services for using Instagram for real estate agents in the most proper way.
These services can help you in different aspects of social media marketing, as well. These services are:
Instagram Account Growth Service
Postmate and scheduling Service
Hashtag Generating Service
Direct Message Service

Content Producing Service
All these services would ultimately help you boost your presence on Instagram. A better and more professional post on social media means better real estate lead generation.
Instagram growth service
Applying Instagram Account Growth Service would do anything you need to have the best real estate Instagram account. In other words, it gives you real Instagram followers who are interested in your account's niche and will engage with your posts. Using RealtorMate you will have a growth-guaranteed Instagram account.
Instagram postmate service
Postmate service can provide you with the best real estate Instagram posts. These Instagram posts can make clients have more engagement. Besides, you can use the Scheduling Service to post them at the right time. 
Instagram hashtag generator service
On the other hand, you can bring the highest traffic to your account with the help of the Hashtag Generator Service. Hence, you can see that all these services help you in different aspects to generate more real estate leads.
Instagram DM service
Direct Message Service is a great choice for real estate marketing. It can answer your direct messages on Instagram automatically with different choices. Therefore, with those answers, you can absorb a lot of potential clients. Besides, you can use it as a real estate CRM software.
RealtorMate pricing plans
The pricing plans of RealtorMate are very flexible. There are many facilities that you can use for free. Besides, there are some other premiums and very helpful choices that you can apply for by paying from $49 to $399.
Don'ts of Instagram for Real Estate
Previously, we mentioned how to use Instagram for real estate agents in the form of dos. Here, we will tell you what you shouldn't do if you want to have a proper real estate agent Instagram account.
1- Don't use Others' Photos
If people have seen the photo you used somewhere before, they would definitely become suspicious of you or your company. Internet photos can make your account look fake as well.
2- Never Buy Followers
Buying fake Instagram followers might have been useful some years ago. But now, with a new algorithm of Instagram, it doesn't work at all. Your followers must be organic with a high range of engagement; otherwise, you wouldn't meet the top.
3- Don't Just Sell on Instagram for Real Estate
It is correct that the main purpose of using Instagram for real estate is to sell properties. But some of your followers are following for design motives, real estate tips, or simply knowing a vicinity. So provide them with useful feeds. This useful information can bring more organic followers toward your Instagram account.
There are hundreds of thousands of posts with the "real estate" hashtag. So your post would be lost among them. Try to use suitable hashtags for commercial real estate based on your brand. Try to make your own hashtag and use it in all your posts on Instagram.
5- Don't Underestimate Profile Photo and Bio
They are at the front. As a person checks your profile, the first thing they face is a profile photo. It should be a very high-quality photo of yourself, and the bio should consider the word "realtor" or "real estate" with a brief explanation of you and your interests.
Top Real Estate Agents in the USA
There are a lot of real estate agents working in this business. Therefore, it might be a tough competitive industry. You need to have some distinguishable characteristics to be considered among the top ones. We will bring seven of these real estate agents who have the highest number of followers. In other words, we can consider them as celebrities in this field.
1. Ryan Serhant: @ryanserhant (1.5M followers)
Ryan Serhant is from New York City. He is starring on Million Dollar Listing New York, as well. Besides, he is part of the elite real estate firm Nest Seekers International and appears on Network News regularly.
Ryan's posts recently have featured house listings around New York City and Long Island. In the past, he mainly posted personal photos of his vacations, family, and friends.
2- Fredrik Eklund: @fredrikeklundny (1.4M followers)
Fredrik Eklund is a real estate agent from the prestigious New York City. He has succeeded in the US real estate industry. Besides, he founded his own real estate company in Scandinavia. He employs over 50 people at three offices. Apart from his work, he stars in the television show Million Dollar Listing New York on Bravo. Mr. Eklund has written and published a book, "The Sell: The Secrets of Selling Anything to Anyone."
Fredrik shares mostly posts that peek into his celebrity lifestyle. Additionally, he tries to add value to his followers by focusing on real estate and architecture in New York City's Manhattan. He puts some listings on his account, too.
3-Barbara Corcoran: @barbaracorcoran (696k followers)
When Barbara Corcoran was 23, she founded and led The Corcoran Group, a New York residential brokerage firm. She sold $66 million in 2011. Now, she works as an investor in ABC's TV show Shark Tank. Besides, she co-founded the Barbara Corcoran Venture Partners. It is a group that invests in early-stage start-ups. She also is a regular contributor to NBC's Today show.
4. Josh Altman: @thejoshaltman (695k followers)
Josh Altman is a successful real estate agent in Los Angeles. He is a  motivational speaker, as well. Additionally, he stars in Million Dollar Listing Los Angeles.
He is focusing more on his personal life and family on Instagram. Furthermore, he posts house listings as well as photos of his daily business tasks, such as attending a conference.
5. Chad Carroll: @chadcarroll (505k followers)
Chad Carroll is Vice President of Douglas Elliman. He participates in Million Dollar Listing Miami star, as well.  Chad Carroll works in Miami as well as New York City. He is famous for having a "full-service real estate approach". This special approach has brought him success in all these years.
Chad posts beautiful house listings on his account. Moreover, he shares some photos of beautiful nature. Checking his account would help you get familiar with Miami's amazing beauty and luxury.
Barbara shares some photos of her personal life with funny and cute anecdotes. She tries to add value to her page by posting advice to her followers while displaying intimate moments with her family and friends.
6-Madison Hildebrand: @madisonmalibu (105k followers)
Madison Pomeroy Hildebrand is an American media personality and realtor specializing in the luxury real estate market located in Malibu, California.
On his account, he shares house listings around Los Angeles, his personal life, and humor. There is a good variety of them in his posts. Madison's posts are clean and simple. His approach is unique and eye-catching.
Luis Iglesias is the founder of the Iglesias Realty Group. He is also the main broker in this group. In the luxury real estate market, he is the expert one.
Luis strictly posts listings, with some posts focusing on a particular feature of a listing. Luxury and simplicity is the theme his posts have in common. Following his posts would help you get familiar with a celebrity life at home.
All in all
Using Instagram for the real estate business needs some help, and RealtorMate could be a professional assist in growing your Instagram account to generate more real estate leads. 
This post was last modified on August 25, 2021 00:34