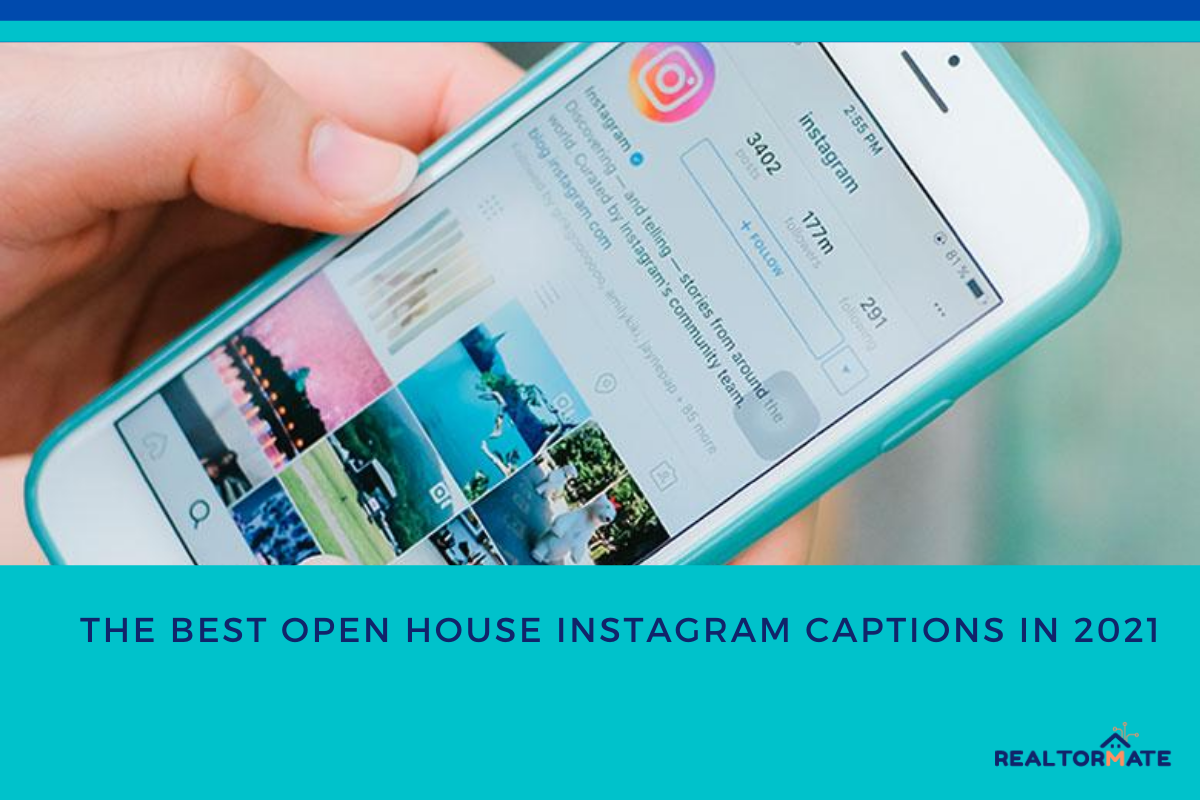 If you want to expand your business, use Instagram. That is a reliable path. Invest in this platform. Therefore, you need to know it better. We tell you that success road passes from the best open house captions.
We all have felt that this year has been full of unexpected challenges. A new beginning can't come soon enough. Therefore, writing the best open house captions might help you progress your business ultimately.
If you are a realtor and you know what a competitive job it is. You have to stay above the rest and be the best. You need to attract your followers to show them your properties.
Why Writing Open House Instagram Captions is Important?
As you may know, the Instagram community has more than 1 billion active users. Thus, your competitors are likely to be active on this platform as well. To write perfect realtor captions on Instagram can open new doors for you and guarantee your success.
On the other hand, this platform has the highest range of engagement. This means that you have a better chance to find real clients.
The average engagement rate for branded posts on Instagram is 4.3%. The median engagement rate is 3.5%. This is higher than other platforms, including Facebook, where engagement rates hover around 0.15% depending on the industry.
Just posting and offering some sales can't help your business alone. You need to write the best open house captions to provide you a better opportunity. These captions should attract potential users. You should improve the customer experience and help potential followers understand what your post is about.
How to Write the Best Open House Instagram Captions?
Creating the best open house captions is a great challenge. This is because a customer can buy at most two houses in his lifetime. Therefore, these captions should be able to encourage the customers and be informative, as well. Here we will give you 7 tips to create the best open house captions.
1- The Family Style of the Customer is Important
A good tip to use when creating the best open house captions is to think about your target audience. If the customers have young kids, then you might want to include some elements of bright colors in property photos
Taking the best photos, and having innovative real estate photo ideas can be an aid for a better real estate caption.
When targeted audiences have older children or teens then you might want to consider using some references such as their high school colors in the photos beside the captions.  Whatever the case may be, you need to be sure that your customer understands what is happening with your property.
2- Consider the Customers Point of View
The best way to write captions for your Instagram is to write from the customer's point of view. Explain what they should expect when they walk in and see the home. You should help them imagine what they are going to visit. It might be a little difficult, but you should be creative if you want to win this game.
3- Be Short and to the Point
One of the most important parts of making the best Instagram open house captions is being in a nutshell. In other words, to be sure that you write captions that are not too wordy.
You want to give potential buyers enough information to make a decision, but you don't want them to feel overwhelmed either. So keep it short and sweet, no more than a few catchy and helpful words. They shouldn't contain repeated words with the same meaning inside. Write smoothly, full of charm, and necessary information.
If you want to increase organic followers, you should target people who live or work within your area. Therefore, you definitely need appropriate real estate hashtags and specifically geotags in your captions.
Instagram reaches followers all around the world, but a real estate agent needs clients in a specific location. Your open house caption must include it.
These tags can not only hint at the location of your property, but they can also attract followers who are interested in events in a specific area. As you are managing an open house event, the potential clients can be absorbed by considering the location.
5- Include a Strong Call to Action
When your Instagram caption encourages readers about your property, that's awesome. Besides, if it motivates them to buy it, that's incredible. Using this strategy increases the engagement rate.
No matter how good your copy is, it should include a strong call to action (CTA), a short phrase that encourages people to take the desired action.
Writing perfect realtor captions on Instagram can provide this encouragement.
Try experimenting with multiple CTA copies to find out what works best for your followers.
6- Previous Customers in Your Caption
Tag your old customers or speakers. No matter how interesting your property is, it won't be worth much if no one likes it. However, people may doubt whether their property deserves attention. It is your job to help them make a decision.
In fact, "mirroring" is a common human behavior, so people are more likely to engage if their friends or family are also there.
7- Influencers Can Be Helpful
When you want to write perfect open house captions on Instagram for the property, think about the influencers who will be connecting with you and tag them.
You can tag an influencer in your photo or caption.
When you tag an influencer in your caption, you also give them a reason to share the post within their community. As a result, it makes word of mouth marketing work for your event.
To wrap it up
In this article, we mentioned the necessity of writing the best open house captions. We suggested some hints for creating the most fantastic ones. We can assure you that reading this blog can be a step forward toward better caption writing.
This post was last modified on July 21, 2021 18:37