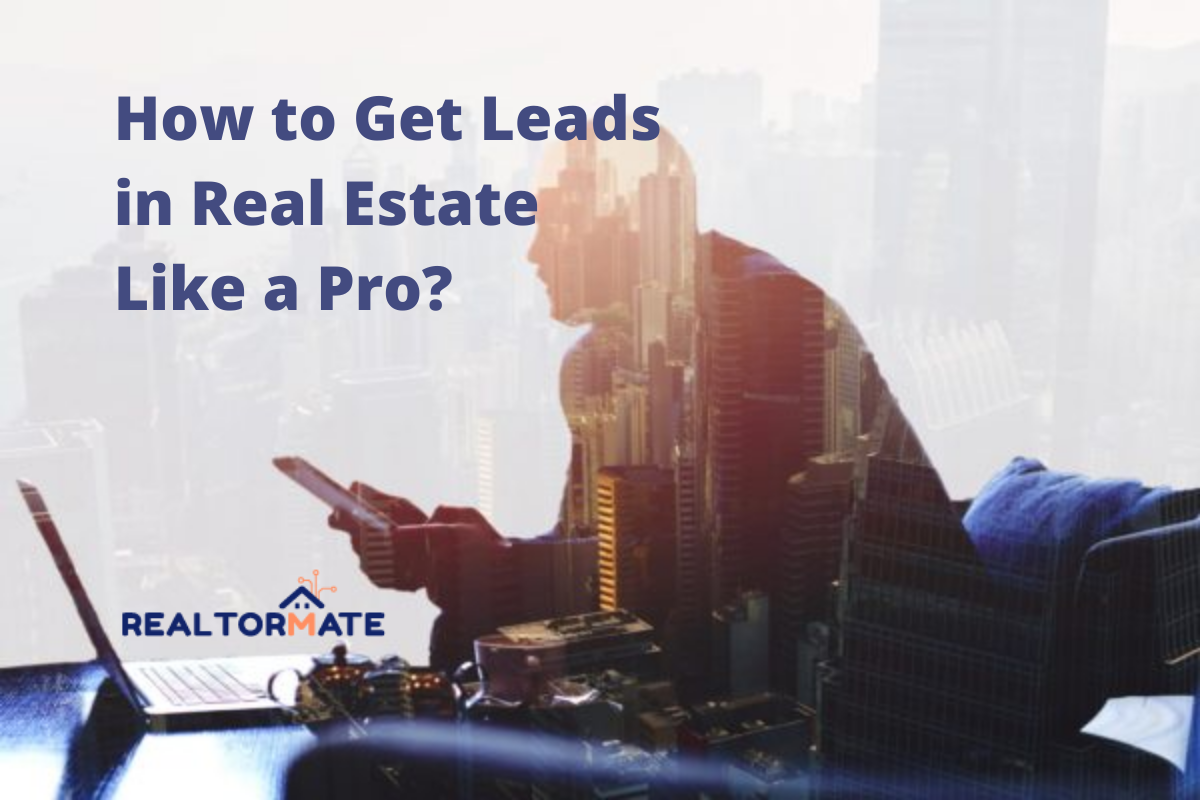 When the population increases, the real estate sector works better. Besides, the demand for housing and accommodation increases, as well. Consequently, more and more people buy real estate to rent or live in it. Here, we will tell you how to get leads in real estate. Furthermore, the increase in listings means that the number of real estate agents is also increasing in the market. Hence, there is a need for real estate agents to differentiate themselves from the competition.
As a real estate agent, the surest way to fail in this business is to sit back and wait for potential clients to come to you. You won't get enough real estate clients if you don't constantly prospect. Real estate marketing helps capture the attention of more potential real estate clients. So, how do real estate agents get clients?
How to Get Leads in Real Estate?
Generating real estate leads is the most helpful strategy to improve your business. Here are some insider tips on how to get leads in real estate and take your business to the next level.
1- Using Realtormate to get Leads in Real Estate
We all know that the real estate market is changing sharply. Realtors are delving into the world of real estate social media marketing. If you want to know how to get leads in real estate, it is wise to be active on at least one social network. Here, we will introduce you to a real estate Instagram growth tool to help you grow your real estate business. Therefore, you can generate real estate leads, which is the main consequence.
Realtormate can provide you with some opportunities on how to get leads in real estate.
This app is one of the best real estate social media assists. This expert group can give you a hand to expand your business on social media and generate real estate leads.
In other words, it is an excellent Instagram marketing solution designed for the real estate industry.
Realtormate offers you a lot of services. These services can effectively show you how to get leads in real estate by expanding your social media presence. They are Post-Service, Scheduling Service, DM Service, and Growth. They cover up almost all aspects of the real estate business and help you be a successful real estate agent.
2- Work your Sphere of Influence
If you are wondering how to get leads in real estate without spending a lot of money, this is one of the best methods. For a first-time realtor, tapping into your sphere of influence would be a great way to find your first real estate client.
3- Use Email Marketing in the Right Way
Email marketing has been around for a long time, but it's still a great way to get real estate listings. One mistake real estate agents make is bombarding random people with unsolicited sales messages.
This is ineffective, as users can simply report your annoying emails as spam, and you will be banished from their inbox. Instead, you should use real estate email marketing to offer something valuable to people who really want to hear from you.
Therefore, you should primarily target your subscribers. Thus, people who have opted for your email campaigns from your real estate agent's website or social media platforms should be your first choice. This will ensure that the emails your subscribers receive are relevant.
4- Ask for References
Asking for references is also among the top tips on how to get clients in real estate. Most successful real estate agents generate a significant number of leads in real estate through referrals from former real estate clients.
People often value referrals from those they know and trust, such as friends, relatives, or colleagues. Therefore, even after a transaction closes, you should still be in contact with former customers through emails, text messages, or regular phone calls.
In this way, they will keep you in mind. Hence, you will be the first person they think of when they need a real estate agent. Therefore, they may know someone who needs your services. You can also boost this real estate lead generation strategy by offering rewards to those who refer a new customer to you. This is a practical method on how to get leads in real estate.
5- Become a Real Estate Network Professional
Another key option to consider when thinking about how to get clients in real estate is networking. The real estate business is primarily about relationships. So, apart from referrals, you can also get more clients in real estate through the real estate network.
Network with other real estate professionals, such as lenders, contractors, and other real estate agents. They can be a good source for real estate contacts.
There is no magic secret in creating a solid real estate network. It takes time and effort. Set aside some money to promote yourself with something as simple as a business card.
Go to real estate investor meetings and meet people. Don't tell them what you do. Nobody cares.
Ask questions about them and their goals, and tell them how you can help them achieve their goals. But, of course, you have to always put yourself in front of people.
Your goal is to get to a point where people see your face and know they need your help. You have to be the reference person in their mind.
The Best Way to Generate Real Estate Leads
It might be difficult to choose the best way to generate real estate leads. Therefore, we tried to cover the most practical strategies in this blog. We offer you to hire a professional company to lead you in this complicated market by considering all aspects.
Realtormate as a real estate Instagram tool is one of those expert companies which can tell you how to get leads in real estate.
How to Generate Real Estate Leads as a New Agent?
The most important factor for a new agent to be successful is getting more clients. The more leads you generate, the more clients you have.
In this article, you can find the best hint to generate real estate leads. Besides, you can find some other methods on how to get leads in real estate as a new agent:
Offering irresistible content

using video marketing

having the most practical titles and keywords

applying a real estate website
all mentioned above could be the best choices to generate real estate leads as a new agent.
To sum up
This blog could be a practical guide to help you generate real estate leads. We tell you some hints on how to get leads in real estate. Besides, we also suggested some other strategies for new agents to generate real estate leads, as well.
This post was last modified on June 29, 2021 10:57