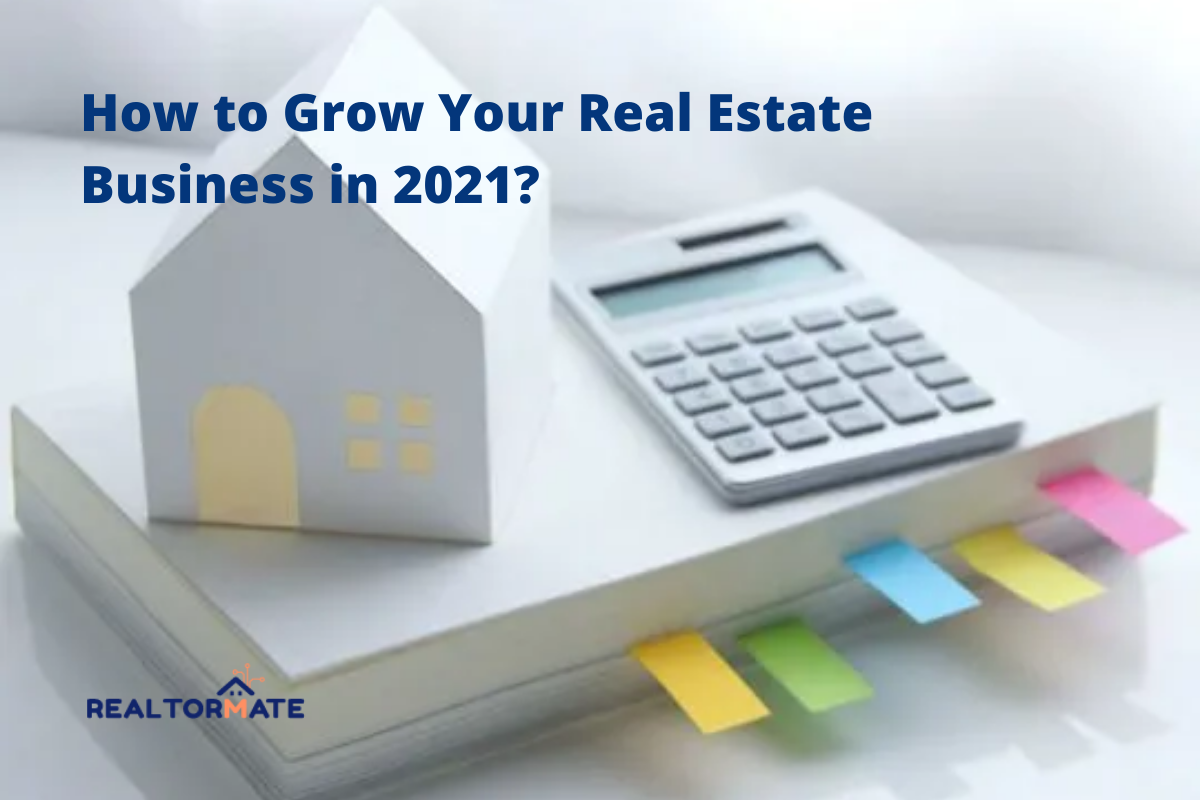 Small and medium-sized companies are the future of the country's economy. We hear this frequently and we strongly agree. However, as you well know, not everything is about good intentions, and it is necessary to guarantee not only the profitability of the business or company but also its expansion so that your venture is competitive. Here, we will tell you how to grow your real estate business.
Real estate is a tough market, with almost  2 million active and licensed realtors in the United States. Hence, it may feel impossible to grow your business. We are here to provide you with the best hints and guide you on how to grow your real estate business.
How to Grow Your Real E

state Business?
When you are working as a real estate agent, you have your own business. In other words, you're the professional people come to when they want to sell, buy,  or invest. 
Below you will find a list of the seven strategies and tactics on how to grow your real estate business. Real estate agents use them to generate additional income or maximize their current income. 
1- Focus on the Social Media
Clearly, the real estate market is changing. Real estate experts have to face the future. This future involves delving into the world of real estate social media marketing. If you want to know how to grow your real estate business, it's wise to be active on at least one social network. You can run ads, produce content and generate real estate leads by reaching a large audience who are potentially interested buyers or sellers. Here, we will introduce you to a real estate Instagram growth tool to help you grow your real estate business.
RealtorMate Can Grow Your Real Estate Business
When you want to be a successful real estate agent, you need to have some professionals beside you. Specifically, when it comes to social media, you need an expert group to guide you on how to grow your real estate business. Realtormate can provide you with this opportunity.
This app could be considered as one of the best real estate social media assists. This expert group can give you a hand to expand your business on social media and specifically Instagram, by doing all you need. In other words, it is an excellent Instagram marketing solution designed for the real estate industry.
It offers you a lot of services. These services can effectively grow your real estate business. They are Post-Service, Scheduling Service, DM Service, and Growth. They cover up almost all aspects of the real estate business and help you to be a successful real estate agent.
2- Fix It and Flip It
You may not want to buy a home that needs so much repair. If you've considered buying a home, fixing it, and then selling it, you've considered "flipping". Many real estate agents turn to houses flipping, or to help clients switch houses, to generate an additional income stream.
There are also a lot of risks involved in flipping houses. For this strategy to work, you need to buy a home below market value, and you need to be able to accurately estimate the cost of repairs. Experience is everything.
A good place to find houses that you can invest in is in the mortgage market.
Before buying a property, make sure you know its Post Repair Value (ARV). You will probably need to enlist the help of a real estate agent to figure this out, but you can get a preliminary idea by looking at the recent sale value of homes in that same neighborhood.
3-

Referrals can Tell You How to Grow Your Real Estate Business
A large part of an agent's business comes from referrals. Word of mouth can play a vital role in growing your real estate business. Therefore, you need to increase this referral by using some tactics. You can offer referral gifts and request referrals on your website.
4- Find Hidden Pr

op

erties Outside the Market
If you can't find deals before anyone else, you will have a hard time making money. Many money-making properties are ones that you won't find on the usual sites. They are those that the owner must get rid of quickly, and they are not necessarily foreclosures. These choices can make you rich. They can show you how to grow your real estate business.
An off-market property could be the property of a couple going through a divorce. They can be the property that one owner no longer wants. These houses are the ones that homeowners generally cannot sell through traditional channels.
Finding someone who needs immediate cash means that you are much more likely to acquire a property below market value. It is these properties that will give you the highest return on your investment.
5- Strategic Partnership
When you grow your real estate business, adding strategic partnerships can greatly increase your long-term client list. This is the foundation of your business. Make a coalition with other real estate agencies.
Creating partnerships with other agents can help you as well. You can give agent referrals across state lines or forge an alliance with a rural real estate agent if you specialize in urban properties.
6- Showcase the Property You Are Selling
For many people, viewing a property is an emotional experience. They have to imagine what their life would be like if they lived there. If you market an empty home, it may be difficult to sell it.
For most clients, judgment is imposed from the moment they first view a property. If the property you're selling only has pictures of empty rooms, you may not be making that killer first impression, which is key to getting things moving.
So if you find an empty house hard to sell, consider bringing furniture, so the potential buyer can get a better idea of ​​what the house looks like, even if it's just for the initial photo shoot.
7- Generate Leads Using Direct Mailers
This old-school method still works just as well today, especially if you're targeting your desired target market. In fact, it returns the same ROI as social media marketing.
Of course, not all direct marketing is equal and "format" plays a big role when it comes to response rate:
Oversized envelopes: 5 percent response rate

Postcards: 4.25 percent response rate

Dimensional: 4 percent response percentage

Catalogs: 3.9 percent response rate

Letter-size envelopes: 3.5 percent response rate
The only downside to direct mail is how difficult it is to track where potential customers are coming from, or where they first see you. That said, there are ways to track direct mail that may require a little more effort or slightly more expensive.
This same survey found that fewer companies are using direct mail to reach their customers. This means that there is an opportunity for you to stand out and attract attention right from the start.
All in all
The importance of a lucrative business is clear. If you want to know how to grow your real estate business, this blog is the ultimate guide. We also mentioned some apps to help you in this process. Considering them would provide you with new opportunities.
This post was last modified on June 9, 2021 18:18