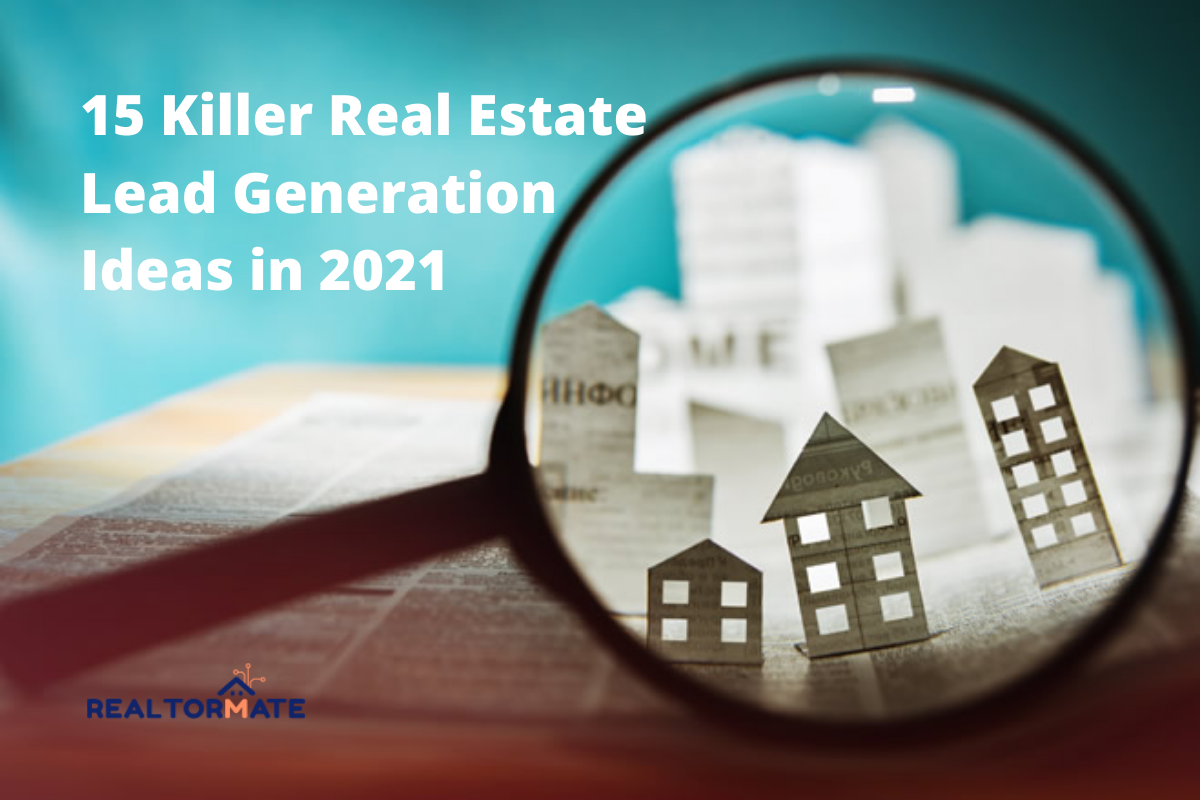 Good real estate lead generation ideas can make a world of difference. Therefore, when it comes to boosting business, you can trust these ideas. Here is the right place to get the best real estate lead generation idea.
We try to offer the most practical ones. Additionally, you would move your business forward by applying these real estate lead generation ideas. Besides, there are also some real estate lead generation companies that can help you in this category.
What Do Real Estate Lead Generation Ideas Mean?
Let's narrow down the definition and scope of lead generation. It is the use of techniques to obtain data from people. Besides, you can incorporate into distribution lists, maturation processes, email marketing, and provide sales opportunities to the sales team.
In turn, a lead is a person who, interested in the information, services, and products we offer. They have given us their contact details to continue informing them. Additionally, they are allowing us to apply lead nurturing and lead scoring techniques.
How Do Real Estate Lead Generation Ideas Affect?
Real estate lead generation ideas help you to do the marketing and advertising process. Furthermore, they can stimulate buyers and sellers to make their trade. In other words, these ideas would change the potential customer to a real client who closes the deal.
Real estate lead generation ideas are varied. Here we will introduce you to some of the best ones.
What Are the Best Real Estate Lead Generation Ideas?
As we mentioned above, lead generation can play a vital role in providing you with active customers. We will introduce you to some top real estate lead generation ideas in the following.
1- Generating the Highest Real Estate Leads by Lead Generation Apps
One of the best real estate lead generation ideas is using social media. Therefore, you need to use it in the most efficient way. Hence, you need practical assistance. Realtormate can help you out in this complicated way. It has the best real estate Instagram growth services.
We all know that social media plays an important role today. For this reason, you need to be active and competitive on the top platforms. Realtormate as a lead generation company provides everything you need to generate real estate leads on Instagram. 
In other words, Realtormate is a realtor's social media management tool. It offers the most effective suite of services to generate real estate leads, including:
Custom Instagram Design and Templates
Content Creation and Posting
Full-Service Follower Growth
Social Management Tools
… and More!
All of these services are designed to boost your presence on social media and help you generate more real estate leads.
Realtormate has the best-dedicated account manager option to manage an Instagram account. It can do almost everything you need to produce the highest lead.
This expert group can create useful content, post them based on a schedule, generate the most useful Hashtags, grow your organic followers, improve engagement, and even answer your Direct Messages. All can be done by applying this useful app.
2- Offers Irresistible Content
Think about what each buyer person needs in each phase of their buying and selling process.
Examples of content for real estate leads are:
The reports of the local real estate market,

The guides and tips for buying or selling in the area,

E-books,

Online training,

Consultancies,

Appointments to visit the property (for recruitment or for the buyer),

A property valuation study (estimate of the starting price for the sale or price comparison for the purchase negotiation).
3- Calls to Action that Really Stimulate the User
They are the buttons that show offering messages to the readers of an article.
They need good visibility, in a prominent place; the message must be clear, as well as the offer. Besides, it should have attractive and contrasting colors.
4- Use Optimized Forms
Depending on the context of the page they are placed on, they can display more or fewer information fields.
The general advice is to ask for the fewest number of fields, to facilitate their completion.
If you can apply smart fields for recurring users, you can avoid having to re-insert the same information over and over again.
5- Take Care of the Container
The real estate website and the real estate blog are your main channels for generating and disseminating content.
Spend time analyzing what your potential customers need to know, how they seek information, what questions they ask, where they ask, who they trust and what value they give to the opinions of other customers.
If you have a good offer, create real estate content related to that offer, with several messages and articles about it.
If you have a differentiating service, present it in different ways, taking into account the maturity phase of the contacts, from simple explanations at the moment of discovery, to specific details that allow you to compare your services, give them the value they deserve, and help you to make a decision.
6- Feed and Maintain Your Social Profiles
Having a social profile is not having opened a profile on a social network. A social profile implies keeping it updated with your own messages, but also contributing ideas and opinions on other people's walls and providing solutions in discussion groups.
Remember that social networks are not just Facebook or LinkedIn.
Instagram and even WhatsApp are social networks, where you can connect with people who are interested in what you offer. Generating real estate leads on Instagram can bring you some great opportunities.
7- The Video Is a Promise that Has Already Grown
Real estate video marketing is a very interesting format, as experts point out as a booming technique.
It allows you to communicate ideas in a direct, personal way and, once you are used to the medium, it is faster to generate than blog articles or information pages on the web.
8- A Good Sales Experience Needs to Promote Yourself
What can be better than a satisfied client, transmitting their satisfaction to other people. It can be an excellent choice to have top real estate lead generation ideas.
9- Titles and Keywords
In an online world dominated by Google and its content indexing, it is essential to choose well which are the main terms that we are going to try to position, related to the content that we communicate and in turn, with the queries that users send in their online searches.
And titles are the place where those keywords are most powerful.
And yes, a good title is also important to attract the attention of a user with more and more information available and less time to consume it.
10- Copywriting and Storytelling
 What can be better than a story that we can feel emotionally close to? Gaining the buyer's trust is very effective, with stories about other buyers who have gone through the process with a real estate professional like you.
Remember, 57% of home buyers have already made the purchase decision before contacting an agent.
When they contact, it is because they need advice. If they contact you, you have done a good job of generating real estate leads.
11- Celebrate Happy Clients on Social Media
Consider displaying them on your social media pages. People like to celebrate milestones. Whether it's a couple who just closed their first home or a family that finds a suitable backyard for their children, showing their success stories on social media will make them feel more victorious. These private impressions of our clients' lives are also a great way to bring diversity into the endless family of indoor and outdoor photos. These real human stories will inspire the emotional connection between you and your clients and bring good news to your potential real estate clients.
If embracing social media makes you worry, don't worry. Applications such as Realtormate will publish content for you, making consistency a breeze. All you have to do is to schedule posts and upload content in advance. This is just one of the many amazing apps for real estate agents that help promote interaction and increase your connection with potential clients.
12. Wear Branded Equipment Publicly
After leaving the office, the pursuit of potential customers will not stop. In other words, when traveling, why not shake some branded equipment? Whether you are lining up at the grocery store or walking the dog in the park, people will notice your name and what you do. If you want to improve the generation of potential real estate customers, then a good place to start may be your wardrobe. You never know where to find your next client.
When your buyers go home, why not make a lot of money? After buyers close their new homes, launching a housewarming party is one way to speak out. First, confirm with your customers that this is something they are interested in and determine a date that suits them. If they agree with you, invite their new neighbors and provide food and drinks to start planning for the celebration. If you want to surpass yourself, you can consider giving the homeowner a gift. You will not only make customers feel particularly happy but also become the focus of the topic. With such a reputation, you will leave a long way in terms of potential real estate customers.
14. Send Seasonal Greetings and Gifts to Your Sphere of Influence
When it comes to potential real estate clients, regular exposure to influence is always a good idea. Using the current network is as important as further expanding the network. These people already know and trust you, so keeping your memory fresh will increase your chances of doing more business with them. By sending seasonal greetings and gifts, you will naturally fall into the continuous cycle of promotion. Sometimes, you only need to prepare a warm greeting card before and after the holidays to let your potential customers know that you have not forgotten these holidays and that your relationship is valued. Taking this approach to generate real estate leads is effective.
15. Become a Thought Leader
As a seasoned expert in your field, you have a wealth of knowledge about the real estate industry. So why not share that knowledge with the world by contributing to a real estate blog?
Real estate blogging can be one of the best real estate lead generation ideas. It is cheap and effective.
All in all
We tried to provide you with the top real estate lead generation ideas. These ideas are the most helpful and practical ones. We explained to them as detailed as possible. Besides, we introduced one of the most practical apps which can generate real estate leads specifically on Instagram.
This post was last modified on May 31, 2021 18:33