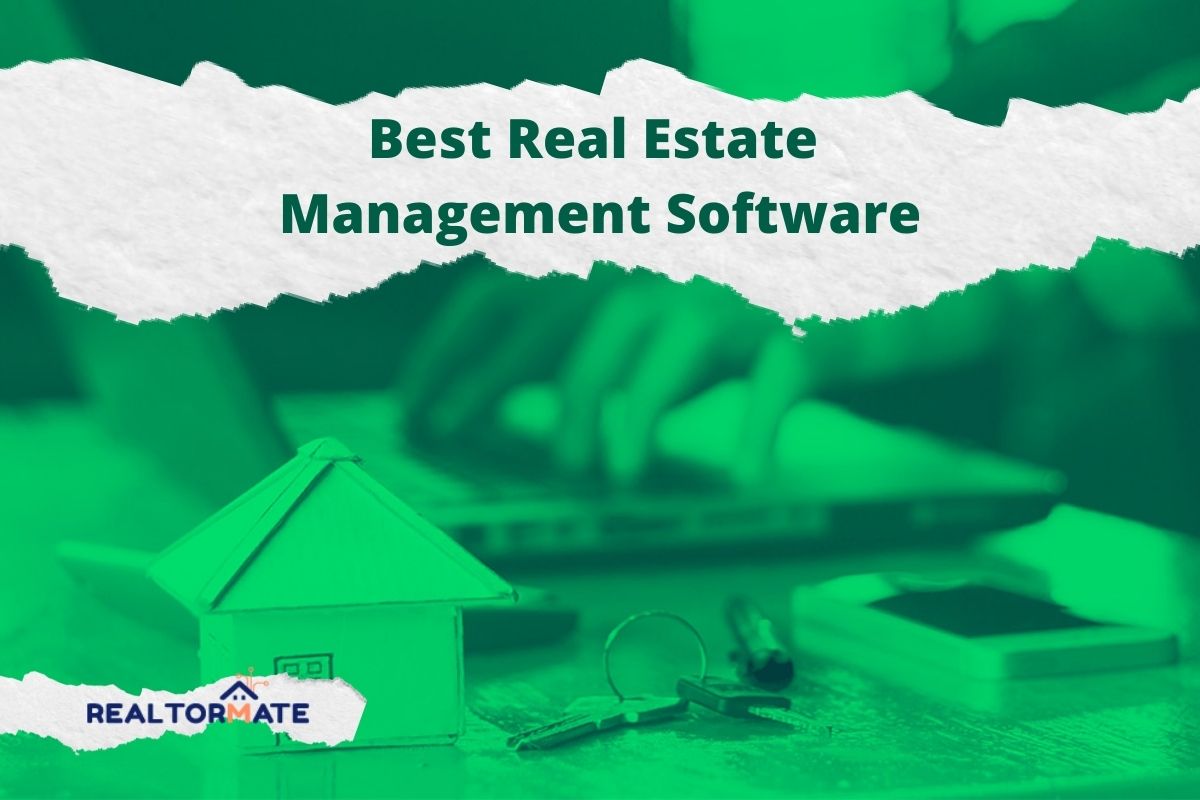 If we want to be successful, we need to manage our life properly. You are working in the real estate business, so you would definitely need real estate management software. Anyone looking for an ultimate guide in this issue has come to the right place. We are going to introduce the best property management software here. Don't miss it.
Currently, real estate management software constitutes a fundamental tool for the real estate sector; hence the importance of knowing the characteristics of these systems, their usefulness, and their benefits.
Real estate management software will allow you to be more productive by automating tasks that take too long.
You will be able to analyze your actions and carry them out in a more relevant way.
What Is Real Estate Management Software?
Real estate management software is a program that will help you both to organize and structure your work. Besides, you can establish a better real estate marketing strategy.
Real estate software has a wide range of actions. They can accompany you from the sale of the real estate to the signing of the reservation, contract, and deposit.
Increasingly relevant, the real estate management software also leads to better communication with customers and better monitoring of workflow. These programs have some objectives. They simplify daily work, improve productivity and carry out more focused actions.
As for all software or tools used in our professions, it is important to identify the needs related to your professional activity. Furthermore, property management software has to meet the expectations that exist towards it. Hence, you can select the one that will be most relevant to your situation. Rental property management software must have playful ergonomics and be simple to use so that it is not a burden but an indispensable tool.
Besides, we have a real estate social media management tool, as well. This tool can help you in other aspects of your business.
Why Do You Need Real Estate Management Software?
Currently, real estate management software constitutes a fundamental tool for the real estate sector. Hence, you should know the importance of knowing the characteristics of these systems, their usefulness, and their benefits.
Real estate management software will allow you to be more productive by automating tasks that take too long.
You will be able to take your actions and carry them out in a more relevant way.
Therefore, by having perfect real estate software, you can see more real estate leads.
What Is a Property Management System in Real Estate?
Real estate management software automates the administrative, financial, and operational parts of the business. These tools for real estate managers are necessary.
These applications offer rental management software tools for apartments, rental homes, commercial properties, mobile home parks, warehouses, and communities of owners. Users can monitor tenant, vacancy, and lease information. Property management software can report on revenue generation, operating costs, cash flow, budgets, and forecasting. Real estate management software is related to hotel software, rental software, and real estate software.
In order to benefit from an integrated system, one must have a broad and comprehensive view of the field. Hence, you should consider all the requirements in this field.
In general, this system has all these features that we will tell you in the following.
Basic information management
Real estate information management
Acquisition and sale management and real estate transfer
Property revaluation
Rental and goodwill management
Automatic issuance of accounting documents
Property management tools will have a continuous relationship with an accounting system like quickbooks for rentals.
Property management refers to the process of maintaining, controlling, and supervising real estate. You can use it to manage residential or commercial real estate.
Property management tools will have a continuous relationship with an accounting system. Thus, it can record the capital, depreciation, and expense documents related to each property in a financial system.
10 Best Real Estate Management Software
Technological advances allow organizations to manage an immense volume of data that can be transformed into valuable information. There are a lot of realtor tools that are necessary for agents to meet success. Specifically, we talked about one of them, here.
Real estate management software is an application that allows the organization to efficiently manage its properties on the internet. Here, we will introduce the best property management software.
1- Buildium
Buildium is a cloud-based property management software. It helps managers of residential and association properties to control all aspects of their business. Besides, you can use it from your office or fully remote. It has online rent, payments, vacancy management, maintenance cycles, and accounting.
Buildium has a rent cycle with features like tenant and lease tracking, full general ledger accounting, automated rent and fee reminders, and on-demand reports. For this online property management tool, you have automated rent collection, and property managers can receive online payments via Buildium's tenant portal.
2- Hemlane
Hemlane is an online property management tool that has a cloud feature. It caters to small businesses. Specifically, the main features of the solution include property marketing, applicant screening, lease tracking, rent collection, and maintenance coordination.
Hemlane helps users to market listings on over 40 websites, track real estate leads generation, and set automatic late fees. Furthermore, you can store documents, coordinate maintenance, and communicate with tenants.
This rental management software also enables tenants to apply for properties online and set up automatic online rent payments. Besides, you can see that Hemlane helps users keep track of the leases and their renewal dates through a system of alerts and notifications.
This cloud-based storage is also provided for property and tenant-specific documents, as well.
3- ManageCasa
ManageCasa is an intuitive, interactive, and automated Property Management platform specifically designed for Property Managers, Associations, and Landlords seeking an all-encompassing web and mobile approach to increase efficiency and grow their business.
On ManageCasa's core platform, property managers can streamline move-ins, create and store digital lease agreements, collaborate on maintenance tickets and shared files, run all of their essential financial reports and easily share them with rental owners. With an ePayments subscription, they can collect rent and pay vendors directly through the application.
With a Customer Marketing Website subscription, property managers can create beautiful integrated websites to market their business and connect with applicants, tenants, and owners around the clock. Once onboarded, tenants and rental owners can create and resolve tasks and maintenance tickets, upload and securely store documents, and discuss issues from their own user portals.
ManageCasa allows landlords and property managers to take control of every aspect of their business. Pricing is competitive and features a tiered model that is free for up to three properties, so users can try out the software without paying upfront. Subscriptions include 24/7 live customer support and access to extensive help center documentation.
4- ResMan
ResMan is the industry-leading property management platform preferred by owners, operators, and investors across the multifamily, affordable, and commercial real estate marketplace. Our platform is built for the evolving needs of your business with a single, intuitive platform.
With ResMan you get an open and scalable architecture that offers the choice and flexibility of an expanded product suite and streamlines comprehensive accounting, reporting, and property management capabilities. With a user-friendly UI/UX, ResMan makes the complex simple so you can save time and increase efficiencies across your business.
5- Innago
Innago offers a cloud-based property management platform for landlords with small to midsize property portfolios. With Innago, users can collect rent, manage leases, collect signatures and manage tenants.
Landlords can collect rent via ACH or credit cards. Users can set rents, configure late fees, waive fees if needed and manage recurring charges like parking fees and utility bills. Email reminders are sent to tenants before rent is due when rent is due and if a payment is late. Innago also includes invoice generation, late fee assessment, account deposits, and invoice tracking. Multiple bank accounts are supported.
E-signature tools let tenants sign leases remotely from mobile or desktop devices. Landlords and tenants can access documents remotely as well, built-in lease templates allow users to configure rental amounts, lease dates, and pet addendums. Users can also add, remove, and sublease tenants. Communication tools let users contact individuals or entire properties.
6- Re-Leased
Re-Leased is a cloud-based commercial property management solution. Key features include accounting, portfolio management, tenant communication, inspections, document storage, and compliance management. The solution integrates with Xero and is able to sync financial and tenant data with Xero in real-time.
Re-Leased sends alerts and reminders to property managers regarding payment dates and daily tasks. It also provides a calendar dashboard that displays key actions items such as lease expiries, rent reviews, property inspections, and safety compliance. The solution offers analytics features that help to pull portfolio, property, and tenancy reports.
Re-Leased allows administrators to assign access permissions. It also enables tenants to view lease terms and payment history, and they can log maintenance issues and track the progress of their requests.
Support is available via email and phone.
7- Common Areas
Common Areas is a cloud-based maintenance management solution for property, facility, and field service managers. It allows users to organize, schedule, and track their teams and tasks online. Key features include multi-location management, issue reporting, image storage, and workflow management.
Action Engine enables users to create, assign, manage and track maintenance projects. The solution also features dynamic dashboards that help managers track tasks and their assigned users at various locations. It provides real-time statuses and reports of action items and workflows.
Common Areas facilitates collaboration by providing GPS-enabled common plans that allow managers to locate and share work orders. In addition, integrated GPS maps communicate the exact location of an issue by sharing images, videos, documents, and comments. The solution also provides real-time notifications at various stages of the job.
Common Areas offers services on monthly subscriptions. It has native mobile apps for iOS and Android devices and provides support via knowledge base and online help.
8- Rentec Direct
Rentec Direct serves as a web-based, full-featured management system for landlords and property managers that is designed to suit the needs of those managing properties between 25 and 5,000 units. Rentec has no startup fees, no term commitments, and includes unlimited US-based customer service and training.
Key features of Rentec Direct include general ledger accounting and financial reporting with optional Quickbooks synchronization; online portals for tenants and owners; a custom website and website hosting to promote your company and properties online; tracking of work orders; automated ACH and credit card payment processing; syndication of vacancy listings; online rental applications; electronic signatures with DocuSign; electronic 1099 filing; utility billing integration; and tenant background screening for credit, criminal, and eviction records.
Rentec has strict bank-grade security standards in place to protect client data, including 2-factor authentication, third-party security verification, and real-time secure data backup. The software is compatible with Windows and Mac operating systems as well as various mobile devices.
9- Storage Commander
Storage Commander is an on-premise and cloud-based solution that enables businesses to manage self-storage operations, online rentals, maintenance costs, and more. It uses global data centers, Europay, MasterCard, Visa (EMV) chip technology, biometrics, and geolocation services to secure workflows and tenant payment details across locations.
Storage Commander allows business owners to navigate, monitor, and track various activities including revenue, lead conversions, and occupancy using visualization tools on an interactive mobile dashboard. Thus, managers can organize, record, and store maintenance data including equipment costs and utilized resources, improving work order processes across facilities. Additionally, tenants can complete and sign rent leases electronically using e-signature capabilities.
Storage Commander facilitates integration with various in-house devices and third-party systems for businesses to scan IDs, biometric fingerprints, barcodes, and more. Pricing is available on request and support is extended via phone, email, live chat, and other online measures.
10- Rent Manager
Rent Manager is a software system for both residential and commercial real estate entities with portfolios of any size. The accounting component of Rent Manager has full integration and includes everything from standard to advanced functionality, including accounts receivable and accounts payable, import payroll, create budgets, run financial reports, perform bank reconciliations, and track owner-financed loans.
Rent Manager is available as an online version and a stand-alone version. It includes all the functionality of the stand-alone version but includes automatic updates and bi-hourly data backups. Besides, the online version can be accessed remotely, and access points can be customized to restrict access to only specific parts of the system by the user.
The online version of Rent Manager also includes web-based modules that are unavailable in the stand-alone version. Additionally, these include resident portals to pay open charges and submit work orders, web access to service managers, and mobile admin. The online version has lower up-front costs, as the billing is conducted in the form of a monthly fee. Another key advantage of the online version is unlimited technical support where users share their screen with the Rent Manager support team to solve issues and offer best practices.
What is the best real estate management program?
It is a difficult question to answer. We have tried to do research on this issue and give you a proper answer in this case. There is a lot of real estate management software in the market. Choosing one of them could be a big deal. Don't worry we are here to light up the way.
Considering all aspects of the apps, we came to the conclusion that Buildium is the best one overall. On the other hand, if we want to regard the advanced features, we could say that AppFolio is taking the first place. Besides, if you just have a few properties and you are looking for the most efficient one, SimplifyEm is the best choice. 
3 Free Property Management Software
We have introduced 10 of the best property management apps in this blog, so far. Here, we will tell you about the top free property management software, as well.
1- DoorLoop
DoorLoop is a rental and landlord management software free until 2022. It can help you manage your properties from one place. Besides, it has unlimited leases, tenants, properties, owners, users, and vendors. Additionally, it has free support and updates.
This free landlord software has some key features. They are custom reports, document storage, online advertising, and role-based access permissions. Furthermore, supervisors have access to financial statements by accounting suite. Besides, you can collect rent via credit cards, automated clearing houses (ACH), or other channels.
Additionally, managers can get maintenance requests, track progress across work orders and set up a customizable website for property listings.
This product is available on monthly subscriptions. You can extend the support via live chat, FAQs, phone, email, documentation, and other online measures.
2- Green Doors
Among all the best property management apps, this one is a free platform. Additionally, you can manage your properties and monitor their performance. You can have a connection with your portfolio from all your devices.
Moreover, you can check the dashboard to see how well your investments are performing. 
Additionally, you can add leases and residents with this rental management software. You can collect rent from ACH or Credit Cards. Furthermore, you can track maintenance requests and schedule with your vendors or with TaskRabbit, for nationwide support.
This landlord software has an assistant, too. The Assistant is a smart chatbot. It handles incoming maintenance requests from your residents. Besides, you can walk through simple fixes before creating a maintenance request in the system.
This free property management software includes mobile apps for their residents.  Therefore, they can stay connected too. It would help them to set up an autopay, pay rent, put in a maintenance request, and check in to any amenities you have.
3- Cozy
Cozy is a property management platform for businesses. It has online rent collection, tenant screening, and renters insurance.  You can use it to appropriately manage rental properties.
This rental property management software helps you in all aspects of the business. The platform is free for landlords. Besides, over 50,000 landlords and 120,000 tenants use Cozy to make online rental payments. We can say this landlord software helps them manage rent collection, tenant screening, renters insurance, and more.
To wrap it up
This blog is a comprehensive guide for anybody looking for an appropriate source for real estate management software. We have tried to prepare an ultimate guide, covering all aspects. Therefore, we talked about the usage of them, introducing top 10 property management software, the best free ones, and anything else you may need.  
This post was last modified on March 31, 2022 02:21