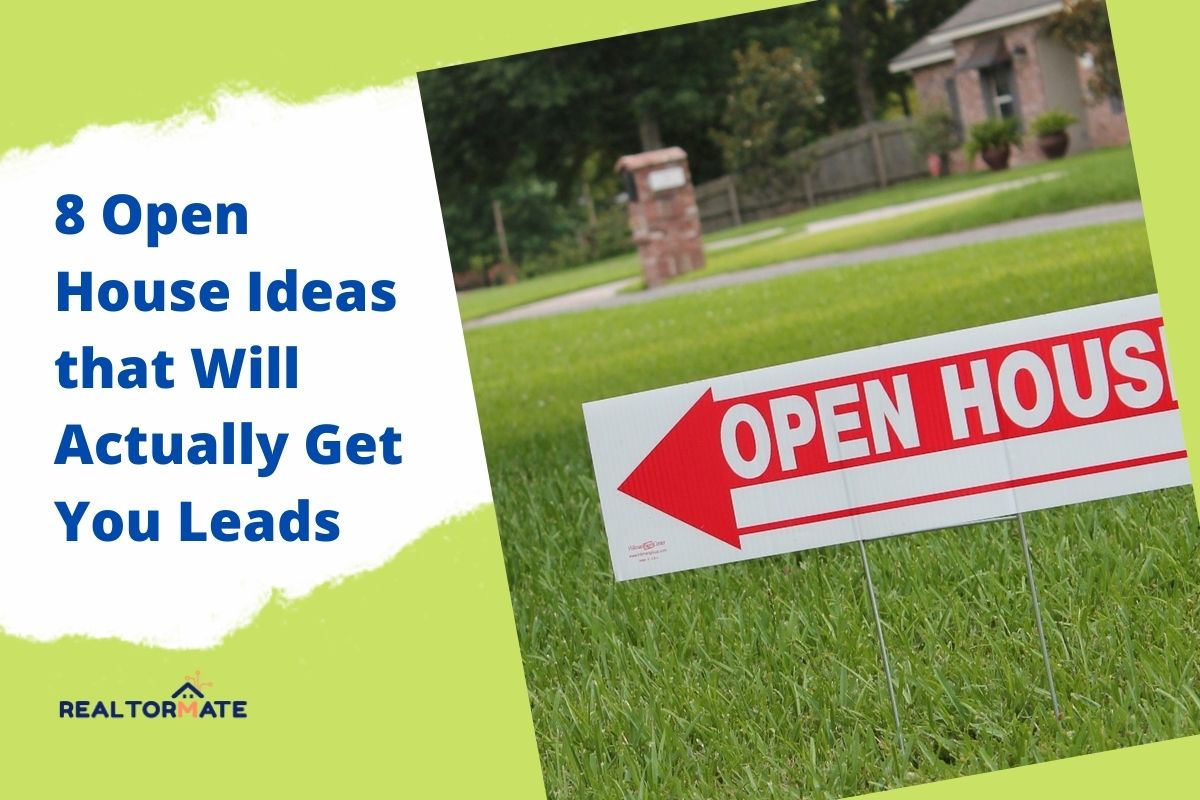 As a real estate agent, open house ideas can be a great lead generation strategy to increase your real estate sales. You have the opportunity to chat with current and potential home buyers.
Through your open house, if you set up properly, and you invite the neighbors, you can acquire their contact information and become their future real estate agent.
What are some unique ideas to attract people to your open house? Furthermore, how do we motivate open house attendees to use the sign-in sheet and provide their contact information?
Why Are Open House Ideas Important?
Open houses are a long-standing staple of the real estate business. Besides, they're also time-consuming and stressful for the real estate agents who host them.
One of the main reasons for having real estate open house events is getting rewarded with potential clients' contact information along with finding a renter for the home.
Therefore, you should consider the point that open house ideas should be comprehensive. They should cover all aspects of real estate marketing. Appropriate and efficient open house ideas can guide us to get more leads.
What Are Open House Ideas that Will Get You Leads?
There are a lot of different ideas which can help you. Here we are going to introduce more creative and practical real estate open house ideas. These ideas can help you out. Applying them would guarantee your success.
1- Run an Instagram Live at Your Open House
The best time to stream and record a video walk-through of your listing is when it's full of people. You should know that people usually like what others prefer.
When a real estate agent moves through potential clients and shares a live video on Instagram, he can move others.  
Potential buyers will be able to view the house remotely and ask relevant questions that the real estate agent can respond to and show in real-time.
Once your video is recorded, you post and boost it on your Instagram page for even more traffic.
Since social media is a complicated issue, you need some experts to lead you in this category. Realtormate is the best solution. This app can move you forward on Instagram. It can be an excellent Instagram assistant to do almost everything you need.
"According to Ruban Selvanayagam of UK-based modern auction specialists Property Solvers: "during the coronavirus pandemic, with home viewings restricted, we were surprised at just how many real estate buyers used Instagram to look at properties. The live videos were a great way for people to get an initial feel and ask any questions they had.
2- Influencers Can Be Helpful
When you want to have an open house event, think about the influencers who will be connecting with you and tag them. You can tag an influencer in your photo or caption.
When you tag an influencer in your caption, you also give them a reason to share the post within their community. As a result, it makes word of mouth marketing work for your event.
Added to these, you can even invite an influencer to your open house event. Believe it or not, they can play a vital role in your success by bringing more people to your event.
3- Consider the Style of the Customer
A good tip to use when inviting people is to think about your target audience. If the customers have young kids, then you might want to include some elements of bright colors in the event, as well.
Decorating the property with nice elements, taking nice photos from them, and having innovative real estate photo ideas can be an aid for a better real estate open house event.
When targeted audiences have older children or teens, then you might want to consider using some references such as their high school options in the event and introduce them. Whatever the case may be, you need to be sure that your customer understands what is happening with the property.
4- Hand Out Goody Bags
Giving a nice gift can be one of the most practical open house ideas. Locally-owned shops and small businesses can provide some opportunities. Your open house event can be used to highlight the unique opportunities of the neighborhood.
Ask them for any small samples or product-based promotional materials that you can use to advertise their business.
Putting together cute gift bags for each guest stocked with samples from around the area is an excellent way to educate people about the opportunities available for them. Furthermore, attendees will definitely remember the realtor who took the time to create such a charming gift.
5- Holiday or Season Can be a Good Excuse
Getting festive for an upcoming holiday or even just seasonal decorations is a thoughtful touch that visitors will likely remember. Holiday Lights in the winter, beach-themed decoration in the summer, or a couple of pumpkins and colorful leaves in the fall can also help visitors to your open house. Imagine what it will be like to live there during these times.
6- Other Agents Are Not Just Rivals
Worrying about your listings can't help you. Ask the other listing agents in your neighborhood if they would allow you to hold their listing open.
To make it a benefit to the listing agent, agree to pay them a 10% referral fee for any client you pick up from the open house. If they don't object, use your own branded open house signs to further build your brand in your neighborhood.
7- Give Clients Any Information They Need
Open house ideas should consider your brand. You need to offer your branded informational package as you have your open house event.
As part of your open house preparation time, put together easy-to-digest informational packets for attendees. These should include the basic information about the property, such as square footage, pet policies, unique assets. It should also cover up the information about the surrounding area like the school district, park district, employment statistics, and more.
You can also include local historic monuments, fun facts about the area, and of course, your contact information.
8- Build Your Personal Brand By Open House Ideas
Everything you offer can build your personal brand. A perfect real estate agent should be able to do it in the open house event, as well. So if you want to build a brand that lasts, you need to take your real estate marketing strategy seriously, even for open houses.
There are hundreds of incredible, practical open house flyers, signs, social media posts, door hangers, and everything else you need to promote your open house like a professional. Applying them can help you to build your brand.
To wrap it up
We tried to bring eight real estate open house ideas in this article. Applying them in the right order can guarantee your success. Creativity in open house ideas can always open new doors for achieving more.
This post was last modified on April 14, 2021 15:22