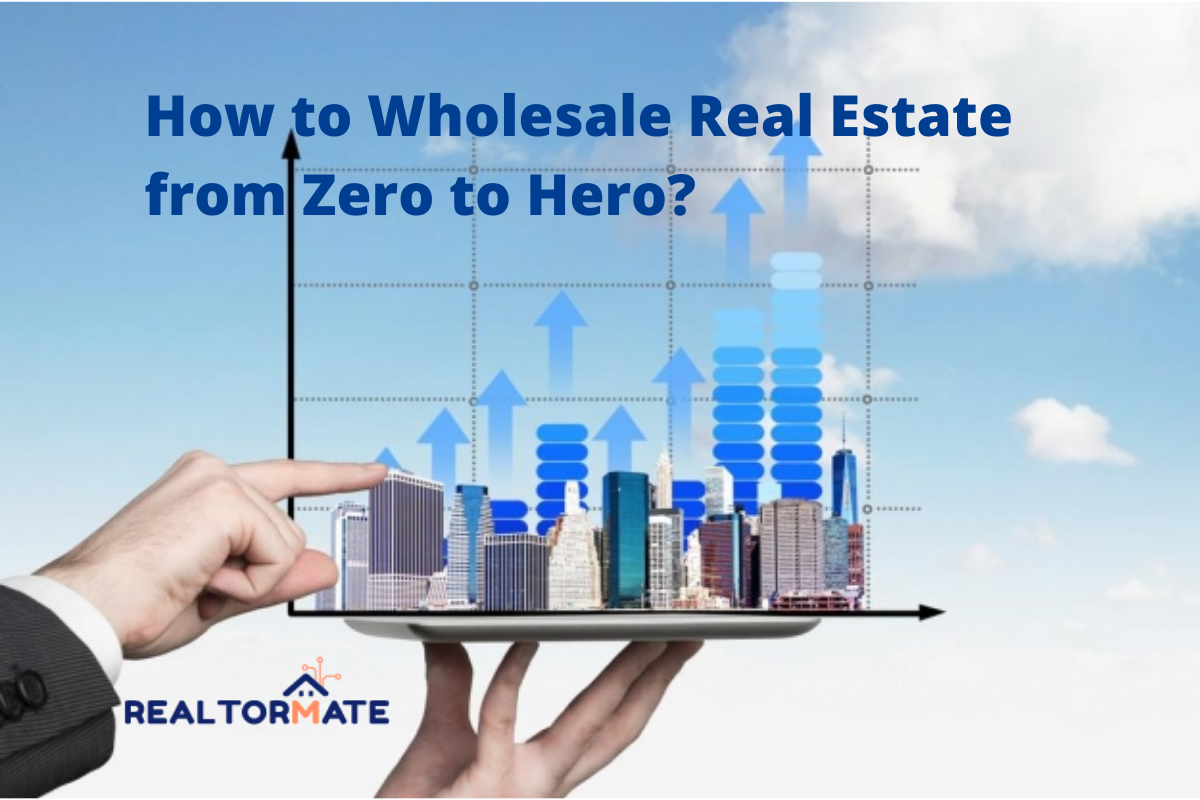 Wholesale real estate is similar to investing, except the time frame is much shorter, and no home repairs are necessary before the wholesaler sells it. In other words, a real estate wholesaler hires a local seller, markets the home to potential buyers, and then assigns the contract to the buyer. Therefore, a wholesale real estate agent makes a profit, which is the difference between the price contracted with the seller and the amount the buyer paid. The goal in wholesaling real estate is to sell the home before the contract with the original seller is closed.
What is wholesale real estate?
Wholesale real estate is a short-term business strategy that investors use to make big profits. Contrary to what you might think, wholesaling real estate has nothing to do with wholesaling. Generally speaking, the wholesaler sells many products to a retailer, repackaging and selling to consumers at a much higher price. However, the wholesaler may charge the retailer a much lower price due to the volume of goods sold to the retailer.
Selling multiple properties is not the same as selling multiple properties at lower prices. In fact, it is a completely different pot of fish. As a result, real estate marketing strategies have changed. In this strategy, the wholesaler contracts a house, usually a house in distress, with a seller. Furthermore, the stores close to potential buyers and then assign the contract to one of them.
Instead of buying and selling a home, a wholesaler signs a contract with the seller and finds an interested party in buying the property.
The goal of wholesale real estate is to sell the home to an interested party before closing the contract with the original owner. This means that there are no exchanges of money between the wholesaler and the seller until at least the wholesaler finds a buyer. Hence, how does the wholesaler make money? You make a profit by finding a buyer willing to buy the house at a higher price than the seller's agreement. The price difference paid by the buyer is the profit, which remains with the wholesaler.
Wholesale real estate is the best choice for people who want to start a business. Besides, it is suitable for those who don't have the finances. One of the best things is that you don't need to take a course, pass an exam, or get a real estate license to become a wholesaler. If you have great people skills and are moderately patient, wholesaling might be right for you.
Is Wholesaling Real Estate Legal?
If we want to put it in a nutshell, we should say that wholesale real estate is legal.  As long as you obey rules and processes connected to the wholesaling transaction, you can see that it is legal and profitable.
Don't forget that wholesaling legalities can differ from state to state, so make sure you do your due diligence before starting. Let's make it clear. If you want to grow your real estate business, wholesaling real estate is a good choice to follow.
How to Start Wholesaling?
The process of wholesale real estate is not complicated. However, we provided some simple and necessary steps to follow. Considering these steps can lead you to be a real estate wholesaler.
1- You should research your local market before starting.
2- It is necessary to curate a buyers list for your vicinity.
3- A financing source that helps you is important.
4- You need to do vast research about potential wholesaling properties.
5- Having a proper strategy whether to sell the contract or work on a double closing.
How to Wholesale Real Estate?
It would be best if you spent a lot of time in wholesale real estate. Besides, you should know the principles of investment. Additionally, patience is a key factor. Furthermore, you need to have good communication and realtor online marketing skills. Here are some tips on how to wholesale real estate.
1- Finding the Property
To wholesale real estate, you must first find the right property. Distressed properties are one of the best choices. They may be empty houses that need many repairs, or they might be houses owned by banks that are under redemption. 
2- Fixing the Number
Your goal should be to sell the contract, not the property. Hence, you need to have good fees to clarify that your work rate is suitable. Thus, it would help if you consider different costs.
3- Finding a Good Property Owner
You need to go to the neighbors and ask if they know the owner. Neighbors can give you a phone number or email to connect. Going to the local county assessor's website is another choice as well.
4- Consider the Issues About Property's Renovation
By evaluating which renovations a property needs, you know the costs and make sure they fit into your plan to take advantage of the deal. Distressed property needing renovation means a greater margin for the investor to whom you sell the property. This higher margin will also allow you to earn money from the deal.
5- Negotiable Contracts
You need to negotiate a lot if you want to be successful in this business. Therefore, you will want to have an incredible price for the property with the seller with a significant advantage to a potential buyer. Keep in mind; this is where hiring an appraiser and contractor helps.
6- Find a Buyer
An investor or contractor who will purchase and repair the property is your ideal client. Therefore, finding a buyer is crucial, and you should do it quickly, as there will be a settlement date in the contract that needs to be agreed upon.
When you start wholesaling, you may not have a buyers list, but you can find them in several ways. Once buyers start calling about the property, save your name and contact information, even if they are not interested in this property.
If you have a new wholesale property, you can submit it to your buyer list. This will decrease your real estate advertising expenses, in turn, improve your potential profit.
Wholesale Real Estate Investment
Investing in real estate is one of the best ways to secure your future and your money. However, when acquiring a property, you need to consider certain factors so that your investment yields and is fruitful.
The connectivity, the location, and the developments around the property are key elements, but not the only ones that you should consider if you are thinking of acquiring a property.
Even investing where everyone else is doing it does not guarantee a safe investment, which is why many refrain from venturing into real estate investing. In other words, they are afraid of not making the right decision.
As obvious as this may sound, one of the first steps you should take is defining your investment objective. And we are not only talking about the amount you want to invest, but about the utility, you will give to the property and the type of property you plan to acquire.
Why do you want to buy the property? Rent it, resell it, to live in it with your family? You must know for what purpose you will invest to be very clear about the area in which you should buy it.
It will not be the same to acquire a house. Furthermore, it may be more convenient for you to acquire a house in a residential area with the best amenities for your family. Still, if you are thinking of renting it, it may be more convenient for you to look for an apartment in a tourist destination.
Wholesale Real Estate Salary
When you get better in wholesale real estate,  you can find better deals with higher profit potential. Considering this issue, it's not unusual for wholesalers to earn between  $5,000 and $10,000 for each contract. You need to pay attention that this range is not fixed. Having a bit of luck can increase your earnings easily.
Wholesale real estate contract
You know that the process of real estate wholesaling is connected to an exclusive profit. Hence, the wholesaler contracts with the seller for the special right to buy the property for a specific amount. Then these wholesalers try their best to reassign the contract to an end buyer for a higher price. The difference between these two prices is the profit that the wholesaler earns.
Therefore, you can feel that wholesalers need a good lawyer to help them with legal issues since they contract with any seller with any property condition.
All in all
This ultimate guide is perfect for wholesale real estate. We tried to provide a complete guide on all aspects of this business. Reading this blog can make you familiar with contract issues, the process of being a wholesaler, how you should start it, and legalization issues.
This post was last modified on July 2, 2021 11:04