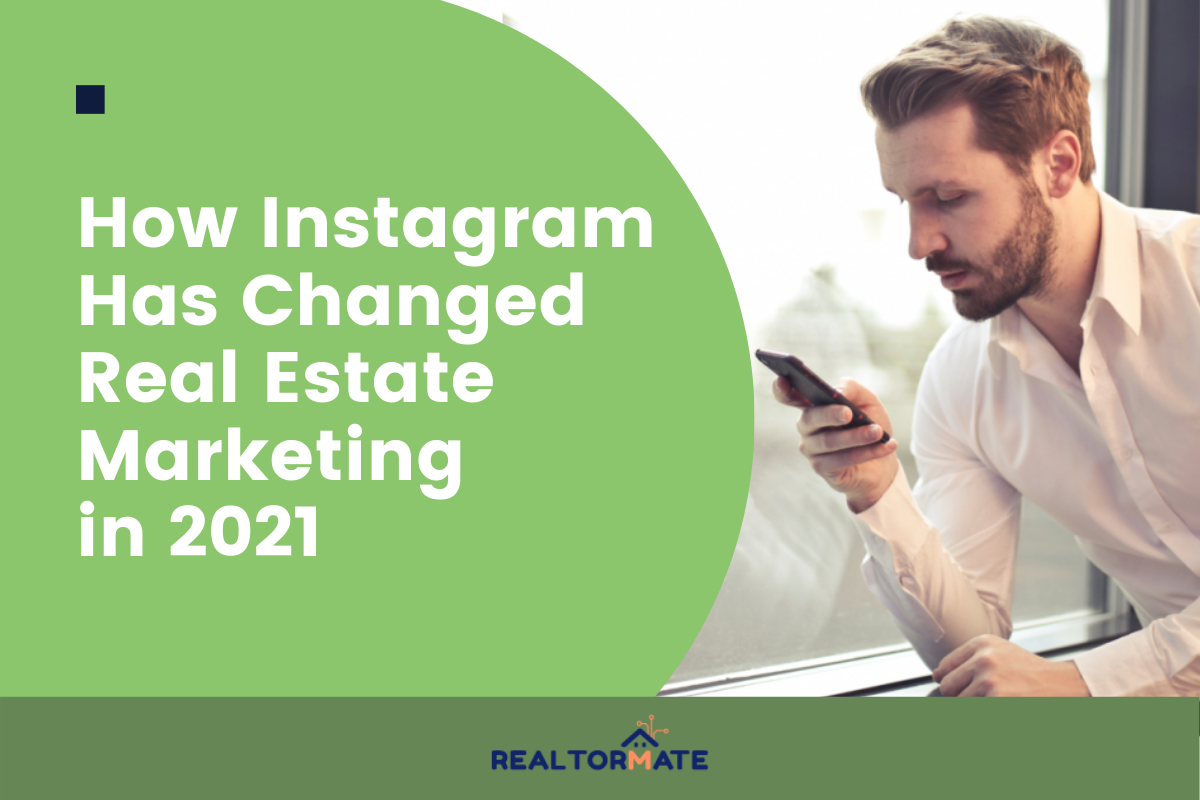 Today, it is impossible to rule out social media as part of real estate marketing. However, not all social networks have the same functionalities or target the same customer profile. These singularities allow us to propose different strategies and objectives in each of the social networks.
You know that there are many popular social networks where you can connect with your audience, but the question is: which are the ones that are worth it to grow your real estate marketing?
Instagram is an evolving social media. The growth in total users is unstoppable; Instagram doubled its user base in just two years (going from 500 million to 1 billion monthly users).

If you are a real estate agent, you can achieve real-world goals and qualified leads by dedicating few resources and not too much time to real estate marketing.
With good planning, you can make Instagram another channel for capturing both owners and potential tenants, or buyers.
Instagram Has Changed Real Estate Marketing
In this article, you will find 7 Tips on Instagram for your real estate marketing that will help you to start or optimize your profile, also we will tell you how Instagram has changed real estate marketing.
Optimize Instagram Profile for Your Real Estate Marketing
If you act as a real estate agent, it is more convenient that you use a professional portrait photo as a profile photo where your face is seen; it is proven that these profiles generate more confidence. If you work exclusively within a larger company, you can include its logo as a watermark. When you decide to keep your image out of the way, you can choose a logo from the colors of your company.
You must also complete the description with an original explanation about who you are and what you do as well as some contact information.
Use the following tactics to create a professional Instagram profile for your real estate marketing: 
1. Use original, High-quality Photos and Square in Shape
Nothing worse than entering a real estate Instagram and finding stolen, highly viewed, overly edited, or blurred photos. Remember that images are the most important factor for online buyers, which is why professional photography is essential.
This does not necessarily imply that all the images you upload to your business account have to be authored by a professional. Uploading photos that you have taken yourself at parties with happy clients, corporate events, or local restaurants, for example, will help to humanize your real estate marketing while legitimizing your quality as an expert in the sector.
However, the photos of your properties are a separate matter. We suggest that you take professional, high-resolution photos, showing the attractiveness of the home in question, the neighborhood, and the views. Let your creativity fly when composing each image, just try not to exaggerate with the editing and the filters, since the client will probably notice it and will question the reason behind so much editing ("Will the property be in good condition? Is the neighborhood that beautiful?"). Try not to apply filters to all the images of the same house; use real photos, just improve the light and contrast, and choose one to apply a filter and give it an artistic touch, if you want.
Above all else, respect copyright rights. If you don't own the image, don't upload it. It can bring you serious problems with your real estate marketing.
If you've spent a minimum of time on Twitter, you're relatively familiar with hashtags as a discovery or real-time conversation tool. While tweets tend to be fleeting due to the constant flow of information, your Instagram posts endure through hashtags. And unlike Twitter, where the sum of more than three consecutive hashtags looks like spam and is very annoying for the user, Instagram users love hashtags. Specifically, posts with 7-10 hashtags tend to get the most flow.
Hashtags are a great way to increase your visibility, but you need to make sure you use the correct tags. You can invent hashtags for branding reasons (tags with the name of your business, for example), but while it may be useful, you should not forget the hashtags that people use regularly.
Before adding random hashtags that you think people use, take the time to exploit community posts and incorporate their language into yours. You're going hyper-local, which means you should target terms that are probably unfamiliar to people outside of the locality in question. Using words that people use solidifies your place as a local expert and ensures access to your target audience.
Realtormate Hashtag Generator
Instagram allows up to 30 hashtags per post. If you don't have enough time, or you simply want to professionally handle your business on Instagram, Realtormate can provide you with the best options.
3. Promote Your Instagram Account
You're already posting, don't forget to tell everyone. Include your presence on Instagram in your online and offline real estate marketing. Although Instagram is a mobile platform, you should add the Instagram icon to your website and blog.
Instagram has a desktop site (with limited functionality) where people with Instagram accounts can Like and Follow.
4. Invest in Advertising on Instagram
The latest novelty of this tool is the possibility of variant features that makes advertising easier for you. There are still very few advertisers, therefore it is a good time to advertise, as better results are achieved with less money than if you choose to invest in other social networks.
Thanks to Instagram advertising, you will achieve a better CPC (a lower Cost Per Click) and a better CTR (Click Through Rate), without the need to be an expert in social networks or hire a specialist. Then take advantage of the fact that there is not so much competition yet and start promoting your images on Instagram.
5. Engage with Other Profiles
It is vital to engage with users on a daily basis. Let's say that Instagram gives more traffic to the most active profiles due to Instagram's new algorithm.
Who to interact with?
Profiles that are in the same niche as you.

Users who may be interested in you.

Companies in the sector.
How to use comments in your favor?
Comments have to be a phrase, try to not use emojis only. Something that Instagram understands has been written by a real profile and not a bot. 
How to find users?
With the hashtags, locations, and the users that Instagram is recommending to you. 
6. Informative Content
With Informative content, you do not sell anything, but you provide interesting information that can attract the prospect to your agency.
Try to create valuable, interesting content that draws people's attention to your profile that leads to higher growth and increases your engagement. 
7. Sales Content
After all, the goal of any real estate marketing is to sell. The use of the previous informative contents has served to gain the trust of prospects in real estate marketing, but once that is achieved, it is time to take the next step: The Sale.
To sum up
In this article, we talked about how Instagram has changed real estate marketing. Social media platforms play a major role in sales, bring more potential clients, and expand your real estate marketing. 
However, achieving a great Instagram profile for your business might be quite time-consuming, so it's better to get help from a reliable service such as Reltormate, an excellent tool to fulfill all your marketing needs. 
This post was last modified on July 6, 2021 08:38