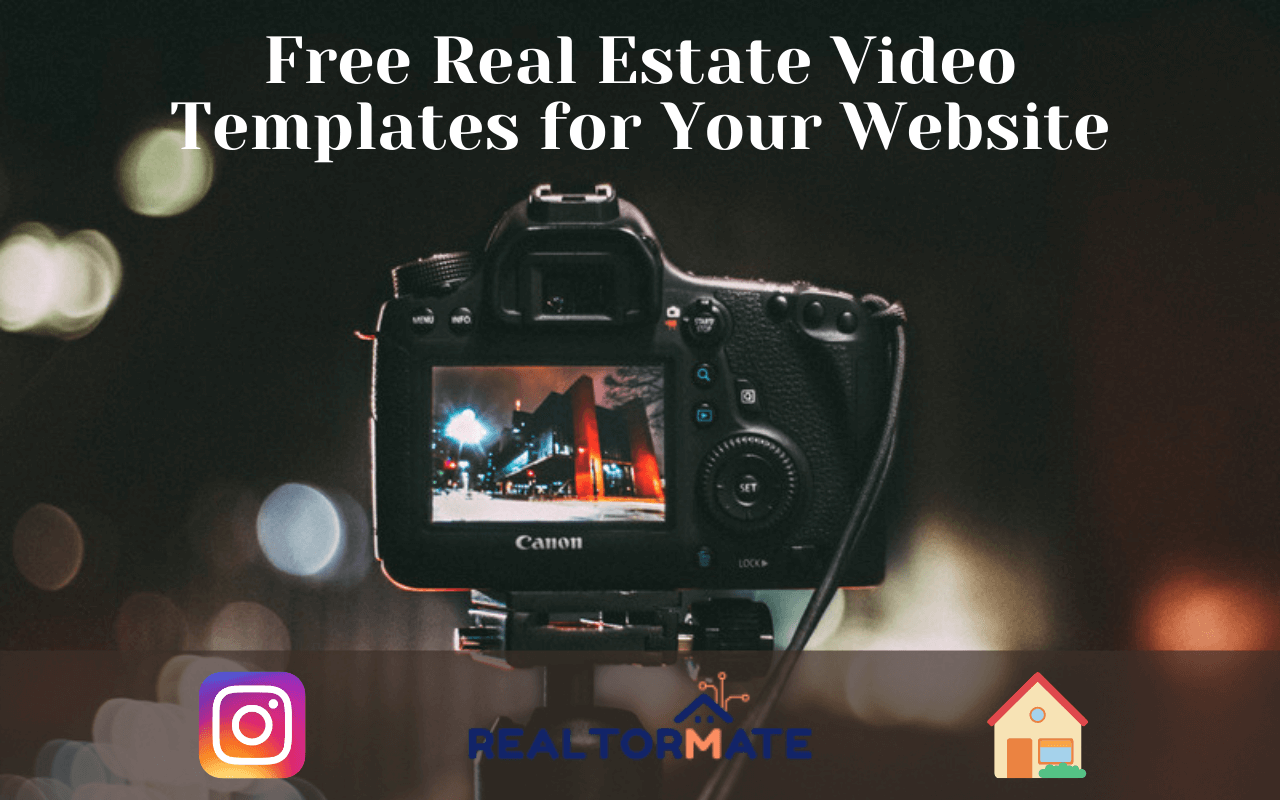 It's a tough task for any realtor to establish real estate branding nowadays. One of the primary missions for every social media realtor is to create good content. To be more precise, you should have a delicate and easy establishment for your content. This is where the idea of real estate video templates comes from. 
The importance of an excellent structure to make videos is almost obvious for most realtors. So, let's get you familiar with some real estate video templates without a break. 
Free Real Estate Video Templates
We are going to show you three real estate video template providers.
1. RealtorMate
RealtorMate is a necessary tool you should keep for yourself because it is your realtor mate. Outsourcing your digital marketing and letting experts do their jobs has become so natural nowadays. So, why don't you make the most of it?
If you sign up for RealtorMate and register in, you can assign the content-creating tasks to the trained experts. 
Let's get to it deeper.
What is RealtorMate?
RealtorMate is a web-run software that is designed for realtors exclusively. So, if you are a realtor and want to advertise on Instagram, you will need it. 
However, you may ask what its features are. Briefly, RealtorMate provides you with:
Growing your account in all aspects that would benefit a real estate

A very professional and dedicated account manager who can manage all the features of your account, including your Instagram account growth, content creation, and designing

AI-powered targeting

Hashtag and account monitoring and researching

Scheduling features for every format of Instagram (feed post, story, IGTV)

The unlimited bio link provider

Automated Instagram DM features

And many other practical features
If you want to know more about it, watch the video below. 
However, let's find out who this dedicated account manager is.
Dedicated Account Manager
A RealtorMate dedicated account manager is somehow your admin on Instagram. They know all the pros and cons of Instagram marketing in addition to real estate marketing. 
Some of the jobs they have are:
You can make the most of the free plan of Realtormate. However, it doesn't provide you with a dedicated account manager. To have this great feature, you should spend between 129$ and 399$ per month. 
2. Canva
Another great tool you can use for real estate video templates is Canva. Canva has two interfaces for different uses. One is web-based, and the other is software you can have on your device. 
Canva has many video templates considering real estate properties. However, Canva is much bigger than that. With Canva, you can edit any uploaded photos and videos in addition to its templates and images. Besides, there are various elements you can add to your content, like texts, shapes, and stickers. 
Although many features of Canva are for free, its best and more practical ones are those that you should buy them. Purchasable features include images and videos. To use all features of Canva, you should purchase its packages which cost from 12.99$ to 30$ per month. 
Note that Canva doesn't have any other features that RealtorMate has.
3. Vimeo
Vimeo is another great tool that will help you drive sales from real estate videos. With Vimeo, you are able to arrange the proper ratio for your social media platforms. 
You can make your videos in 4 different ways. 
You can upload your video to Vimeo.

Vimeo has many templates for many industries that will help you create your videos. Adding texts, stickers, and changing the color of the theme are additional features to make your videos prolific.

You can go live and have a live event. However, it's not supported on any socials but Vimeo itself.

The last way to make your video is screen recording which needs a camera on your device.
Like Canva, Vimeo has made many of its great templates purchasable. However, there are different plans based on how big your organization is. The prices range from 7$ to 75$ monthly if you manage to bill annually. 
Top 3 Real Estate Video Software
If real estate video templates don't persuade you, you'd better use video software and apps. Let's get familiar with the top three real estate apps to upload your video.
RealtorMate
As mentioned before, RealtorMate is a useful tool with many different features for real estate agents. In the first section, you understood you could outsource your Instagram account to RealtorMate to create videos for you. However, the functions of RealtorMate are more than that. 
If you don't want to have an account manager to design and schedule your content, you could do it on your own. Let's find out step by step. 
In the first step, you can sign up in the RealtorMate web app for free. After adding your Instagram accounts, you're all set.
In the second step, select the "Post & Scheduling" and the schedule tabs. Then, select the green-button schedule. Picking up your desired format will lead you to the scheduler. 
For example, if you choose the feed format, you will see a special setup of the feed posts. With this feature, you are able to import images from Unsplash templates, or you can convert any YouTube video. Moreover, you can find any beautiful video templates from the site Coverr. 
You can add your caption, hashtags, and location before you publish or schedule in this section. Besides, you will be able to an external link in your bio tool and share it with your story. After preparing some posts, you can see how it looks on grid preview like below. 
Videoshop
Videoshop is one of the best real estate video apps that will help you create videos fast. Trimming, cutting, and merging multiple videos into one is a simple task if you install Videoshop. Try to personalize your video by adding voices, texts, stickers, and pieces of music to your videos. 
The ability to slow down the video or speed it up is very helpful if you're looking for a complete set of features of an app. The good news is that it's available on both Android and IOS devices. 
Magisto
Magisto is another software designed especially for real estate videos. With Magisto, you can set your videos for many various social media accounts by only tapping a button. While being a great tool for cross-sharing, Magisto has an intelligent video editor which can detect many elements. 
Adding soundtracks, texts, and stickers to your videos is very comfortable with Magisto. Besides, Magisto is available on App Store and Google Play. 
How do I make a real estate video?
After introducing some great real estate video templates and apps, let's see how you should create your videos. In other words, what properties should your videos have?
The answer depends on the goal of your video. For example, if you want to share knowledge about house contracts, mortgage, renting, and this stuff, you can simply add voices to some templates. 
The real challenge is the recording of a house and introducing it. However, it's so straightforward if you think it clearly. Imagine what your customers need to see when they are present on the property. It's as simple as that. 
How long should a real estate video be?
The length of a real estate video is a very important question, but it really depends on the platform you're using. Let's imagine you choose Instagram (which is a wise choice). How long would you think Instagram users spend on videos?
More than 8 minutes is just boring to an Instagram user. Besides, if you can shoot a complete video and edit it up to 6 or 7 minutes, why lengthier? On the other hand, be careful about the minimum length of your video. Just suppose you want to mention every tip about the property. The experience shows that it cannot be less than 3 minutes. So an optimal range of a real video length is between 3 and 7 minutes. 
Final Thought 
In the end, let's sum up our knowledge about real estate video. After reading this article, you certainly know where to outsource your real estate marketing and get real estate leads. RealtorMate has already helped many realtors while you want to push yourself too hard. 
What many people don't consider is the time-consuming process of content creation. The experience shows that even real estate video templates won't save a lot of time. If you add the high-speed marketing actions of your competitors to these facts, the best choice will be using a perfect tool with perfect features. 
This post was last modified on July 31, 2021 12:23